First they said Bryce Harper was going to be a sure quick-trip to the majors, potentially by the end of his first year in professional baseball. Then the Washington Nationals said that they were gonna bring him along a bit more slowly, make sure he understands the finer points of the game and that a 2012 debut was unlikely til the end of the season.
Now new manager Davey Johnson is making waves
talking
about how it's possible that phenom outfielder Bryce Harper could start the regular season on the Nationals roster. How did things turn around so quick?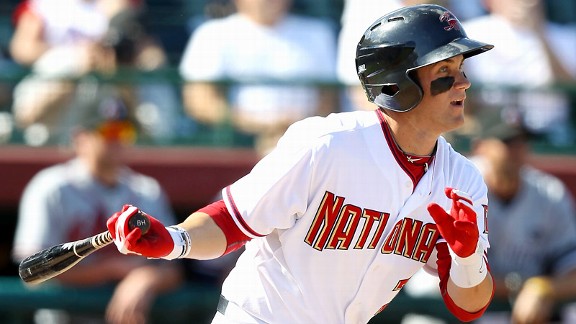 Photo by Christian Peterson/Getty images
One thing to understand is that Johnson is an experienced manager. He's dealt with phenoms before, and he has the patience to see them through. If he thinks Harper is good enough to hit in the majors, he can endure (and try and improve) all those other areas of the game where Harper might be deficient (such as fielding, which he has only done on a regular basis since he joined the Nationals' farm system).
Harper
finished
his first full minor league season in AA-ball, and then went on to the Arizona Fall League for more work. Hitting .333 with an OPS of over 1.000 will get a lot of attention, and the Nationals will be in need of a solid left-handed bat come this season.
Who knows, if Harper extends his great hitting into spring training, he may very well end up starting the season in the outfield for the Nationals. With Stephen Strausburg coming back full-time this season, the Nationals could be MLB's hottest and youngest ticket.