I'm just as stunned as the next person. Coming off an excellent game against the San Diego Chargers, the news out of Soldier Field that Cutler had a broken thumb was unexpected and shocking.
He certainly didn't act like anything was hurting him during the game. Cutler threw for 286 yards and two touchdowns in a game that the Bears had to have to stay close to a wild card spot for the playoffs. Now that they're 7-3, the playoffs seemed likely with their upcoming schedule.
Not, however, if Cutler is gone for the rest of the year. Official word has yet to come from the Bears, but that should arrive tomorrow once their orthopedic specialist has had a chance to assess his injury completely. As it's on his throwing hand, it's likely that he will be
gone
for some time.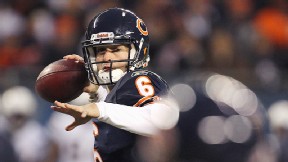 Photo: Jonathan Daniel/Getty Images
It's also highly unfortunate because Cutler seemed to have finally settled into a comfortable place on the Bears team and in the fans' hearts this year. After the controversial knee injury in last season's NFC Championship Game, few players came into this year with as much pressure on them than Jay Cutler.
Cutler, however, seemed to actually open up this year somewhat. He's still a very reticent individual, but he seemed looser in interviews, on the sidelines, and even on twitter (flirting constantly with his ex-fiance). The Bears were playing well in all facets of the game, and a playoff berth seemed probable.
Now that's probably all gone. Sure, Caleb Hanie could come in and play well. He's had very limited work in his three years in the NFL, and his only meaningful time on the field was last year's NFC Championship Game. Sure, he came in and threw for two touchdowns, but that's a very small body of work to rely upon.
If somehow the Bears were able to hang on to their playoff spot, and Hanie and company could somehow get them past the Wild Card round, it's possible that Cutler could return. If that scenario plays out, then look out for the Bears. For now, however, I think it's perfectly acceptable for us Bears fans to go cry in a quiet corner.