On Sunday, when Japan's Women's World Cup team lines up against the Americans in the Championship final, it will be hard for anyone to actually root
against
the Japanese.
You can't blame them, however. Even American goal-keeper, Hope Solo, has been rooting for them and is expecting to have a difficult game against them.
"It's pretty clear we're not going to see the same Japan team that we saw in the last couple of games. They're playing for something bigger and better than the game,'' Solo said of the Japanese, driven by the tragic earthquakes. "When you're playing with so much emotion, and so much heart, that's hard to play against. They're a brilliant team on the attack already…it's going to be an incredible final."
Some have described the Japanese style of play as being the future of the women's sport. Compared to the men's style that Barcelona plays, it relies on smaller, quicker players with sharp passing and maintaining possession of the ball.
The American team faced that in their game against France, and had a difficult time until their physical play was able to finally overwhelm the French and win the game.
However, Japan has been steadily building this team since Coach Norio Sasaki was hired in 2007. This group of players have been together since the 2008 Olympics where they finished just out of the medals in fourth place.
Currently ranked fourth in the world by FIFA,
Japan
had never before won a quarterfinal game in the World Cup, with a combined record of 3-9 with three draws and a goal differential of -26.
That has all changed as this group of players finally started reaching their potential. In this World Cup, the Japanese are a combined 4-1 with a +6 goal differential.
Indeed, this World Cup also marks the first victories that Japan has had against a European squad, defeating heavy favorite Germany in the quarterfinals, and then Sweden in the semi-finals.
Japan's success in this World Cup has caused a sensation back home, with massive media coverage and a national focus that seems even sharper in the wake of the tragic March 11 earthquake and tsunami. For that reason, if Japan is able to pull off the upset against heavy favorite United States, it will be a story for the ages.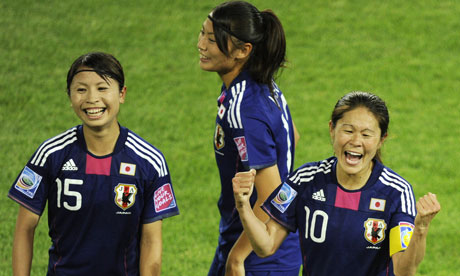 Japanese players Aya Sameshima, Azusa Iwashimizu and Homare Sawa celebrate their quarter-final win over Germany.
Photograph: Odd Andersen/AFP/Getty Images