Jeff Saturday is a 13-year veteran of the Indianapolis Colts. As center, he is a pivotal of Peyton Manning's intricate offense and does far more than he gets credit for.
As a member of the NFLPA Executive Committee, he was also pivotal in getting the new labor agreement done, with NFLPA President Kevin Mawae saying this about Saturday:
"Both he and Domonique Foxworth were instrumental in that they were the two who were in every meeting since June 28 in Chicago," Mawae said. "There were times when I couldn't be there or any other member of the executive committee couldn't and they were the two who were. I can't say enough about how they played a major part in all of it."
During the press conference to announce the labor agreement,
Saturday was clearly
one of the leaders that received a great deal of praise and respect from the group of owners and players who were involved in the negotiations. Saturday was exceptionally impressive when he thanked New England Patriots owner Robert Kraft's late wife, Myra, for allowing her husband to be at the negotiations at a critical juncture despite her failing health. Saturday got emotional and hugged the Patriots owner as he thanked Mr. Kraft personally for being so instrumental in the getting the deal done.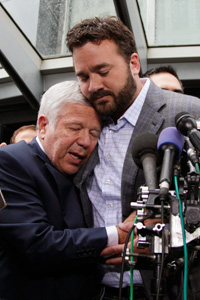 Jeff Saturday emotionally thanks Patriot Owner Robert Kraft
AP Photo/Carolyn Kaster
Saturday was an undrafted rookie coming out of North Carolina and initially signed with the Baltimore Ravens in 1998 but was released before training camp. The Colts signed him in 1999. Since then, he has been voted All-Pro four times (2005, 2006, 2007, 2009), and won a Super Bowl in 2009.