Anybody wanting to know how the Lions have learned how to fight and become winners has to look no further than their head coach, Jim Schwartz (video below).
After the game
between the Detroit Lions and the San Francisco 49ers (in which the 49ers won), the coaches met to do the traditional post-game handshake. Except in this case, Harbaugh was leaping and celebrating on his way over to Schwartz. When he got to Schwartz, Harbaugh gripped his hand hard and pounded his back for a second and then ran off.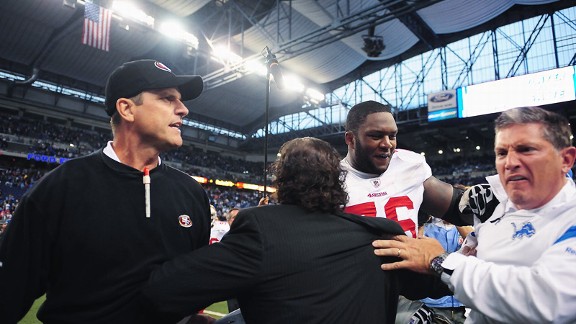 Photo: Andrew Weber/US Presswire
Schwartz clearly took offense to the interaction and chased Harbaugh down, bumping the bigger man in the shoulder to get his attention. After that, the two had to be separated by several players, officials, and management types in what became a heated shouting match.
Personally, no matter what Harbaugh did, Schwartz should not have reacted that way. However, I love the fiery attitude. Trust me, his players love it as well. They will use this for motivation for a while, and for the near future whenever they play the 49ers (could be the playoffs with the way both teams have been playing this year).
I can see one reason why Schwartz might be mad. One angle of the interaction made it look as though Harbaugh pushed him in the back instead of just clapping him on the back as originally thought. Hey, Harbaugh was excited for the win and went too far.
In any case, Schwartz definitely went too far and it was an embarassing moment for a team that has had a lot of success this season because of that feistiness. Just tone it down after the game, fellas.