A 61-year-old woman is attempting a new world record in open-water distance swimming (without a shark cage) with a 103-mile swim from Cuba to Florida.
Diana Nyad began the swim at 7:45 p.m. ET on Sunday and is projected to land on a Florida beach sometime mid-morning on Wednesday.
***Update: Citing a number of factors, Nyad has given up her swimming quest after 29 hours in the water
.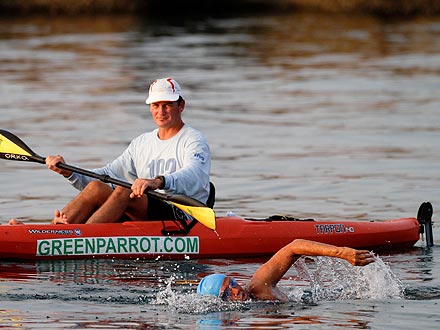 Currently surrounded by a support team of 30 in five different boats, Nyad is swimming through this open water without the traditional use of a shark cage for protection. Her team includes six ocean kayakers who will tow behind them electronic shark shields that emit an electronic pulse that should help repel sharks. If that doesn't work, the kayakers will use their paddles when a curious or hungry shark gets too close.
"When I walk up on those shores of Florida, I want to prove to the AARP crowd that it's not too late to go back and write that book or adopt that child," Nyad said on Sunday before she started her swim.
Reports out of her camp towards the end of her first day revealed she has had
quite a bit of shoulder pain
, and a touch of asthma. However, she is continuing to swim strong.
Follow her progress on the
CNN Position Tracker.