I was watching with a large group of people tonight during the Denver Broncos-Buffalo Bills game when the Broncos' Rahim Moore hit/tackled Donald Jones of the Buffalo Bills. (*** Update: Video Of The Hit Can Be
Found Here
) (***
Moore Fined $20,000
)
By "hit/tackled," I could have said "helmet-to-helmet hit" or "unbelievably illegal shot to the head," and I wouldn't have been wrong. Once I find a video replay, I will post it here, but for now, I will summarize the hit as follows: Moore zeroed in on Jones as he attempted to make a catch on an overthrown ball and hit him directly in the head with either his shoulder or his own head.
Bill Players React After Their Own Donald Jones Is Drilled In The Head


Photo: John Leyba/Denver Post
Now, I understand that Moore is a rookie. He is trying to make an impression but hasn't had the benefit of months of coaching to know how to protect himself and another player when he goes in for a high hit. However, that was just a completely dumb play. The Broncos were penalized 15 yards immediately for hitting a defenseless receiver, and Moore almost got his own head ripped off by several Bills players who retaliated for the action that took place right in front of their bench.
Two things bothered me greatly in this play's immediate aftermath:
Despite the fact that Jones fell to the ground with his arms in a stiff posture and his helmet partially knocked off by the hit, local Broncos announcers never ever uttered the word "concussion." Instead, several minutes later, as he was helped to his feet and over to the bench, the announcers actually were relieved and said that he appeared to be alright. To not even discuss the possibility of a concussion at that moment was a lack of either journalistic integrity (in an effort to not make the Broncos player look like a bad guy) or simply lack of knowledge on what a player looks like right as they sustain a concussion.
The group of people I was watching the game with included casual football fans and serious hardcore fanatics. I appeared to be the only one who thought that Jones had a concussion. Everyone else said he was "stunned," or "just got his bell rung." When I explained that a guy having his bell rung WAS a concussion, there still wasn't much agreement. I was actually pretty surprised by the lack of suspicion that Jones was concussed. When Boston Bruins forward Nathan Horton was hit in the head during the Stanley Cup playoffs, his posture immediately post-hit was fairly similar to Jones' in this case. Horton was diagnosed with a severe concussion.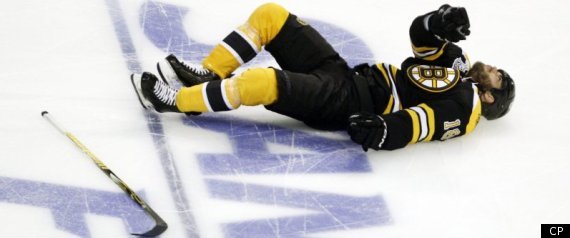 Nathan Horton, Immediately After Hit That Gave Him Severe Concussion
During Stanley Cup Playoffs
What that signals to me is that the NFL still has a long way to go in educating its people and fans on what a concussion is, what is looks like, and how serious it can be. Rahim Moore is very lucky he didn't give himself a concussion on that play, and Donald Jones may have just had a career-altering injury. We won't know for a while.
What I do know is that the hit was clearly illegal and uncalled for, and Moore will undoubtedly be fined, as he should.