If the signs coming out of Broncos Training Camp are to be taken at face value, there is every indication that Kyle Orton will remain the starting quarterback with Denver for this season.
He has simply performed too well, too much like a professional, and far and away has had the best performance of all three qbs on the field so far this pre-season.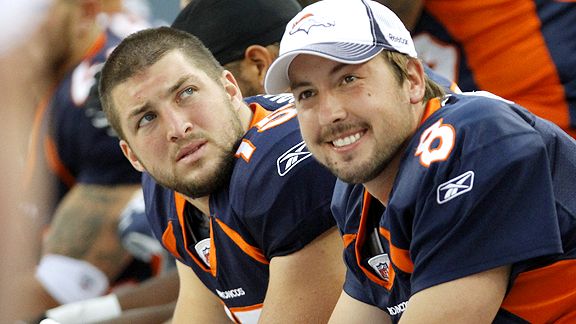 Obviously, Tebow is still not ready. The lockout is partly to blame, and a change in the coaching staff for the Broncos also slows Tebow's progress down. However, one has to wonder if all that time spent promoting his new book in the off-season could have been better put to use with a dedicated quarterback coach and more time with his teammates.
Based on reports out of Denver's first scrimmage last Saturday, Tebow looked slow in his progression reads. His hesitation resulted in three sacks, and he failed to make any kind of a positive impression.
Orton, in contrast, appeared polished and always seemed to know exactly where the ball should be. He also seems to realize that the job is his now, and he's unlikely to lose it this season barring injury.
"My first goal is to win over my teammates, to win over my coaches, and I think I'm well on my way to doing that," said Orton.
ESPN's Rick Reilly has an article today where he states that the locker room is 100% behind Orton as their starter. Some players last year (and this) apparently were none too happy at how much attention Tebow received, and how he reciprocates it to the press. According to Reilly:
Tebow, ever gracious, kept talking with reporters every day. A lot of the players thought he should've stopped, in deference to the starter, Orton, who was getting scrums one-tenth the size.
At the beginning of the year, even the vast majority of the fans seemed to want Tebow as the starter, but as more and more info is being leaked out of training camp, even the Broncos fans are realizing Tebow is not their man this year.
Today, Orton received a large ovation when he came out for practice. He can keep that support if he continues to show he can play and the Broncos win some games.
Thursday night will be Denver's first pre-season game against Dallas, and both Orton and Tebow will have a chance to show what they can do. This game will have far more drama than any pre-season game should rightly have.