***Update: Check out the
before/after pics
I won't normally post that
much about golf
, but these
pictures
of the situation today on the Castle Stuart course, site of the Scottish Open, are pretty remarkable.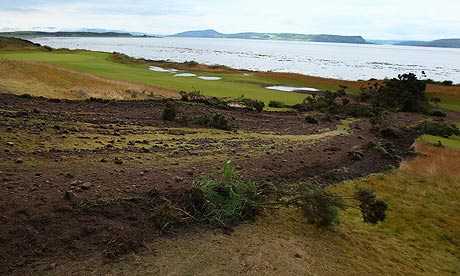 Severe thunderstorms and resultant flooding made it very dangerous just to get to the course yesterday, let alone play on it. The Scottish Open has decided to eliminate one day of play because of the delays and allow a 54-hole, three-day tournament. The picture above is of a landslide that swamped the 1st hole fairway.
The
groundskeeper
is definitely going to earn his salary after this.