The 2011
Rogers Cup
, the next Masters 1000 tennis tournament on the ATP schedule, is set to start on Monday. Most of the big names in men's tennis will be there, as this will be the first major action for most of them since Wimbledon.
This will be Novak Djokovic's first ATP tournament as the #1-ranked player in the world, and he has been successful here in the past with a win in 2007. It will be a busy month for him as his rivals will contest him here, and then at the following week's Masters 1000 tournament in Cincinnati, followed by the US Open at the end of the month.
Novak Djokovic


topnews.in
Action will be fast and furious, as the tournament lasts roughly a week, with the Final being held on Sunday, August 14. The top eight seeds in the tournament will receive a bye into the second round, which starts on Tuesday. The third round is set to be finished on Wednesday, the quarterfinals on Friday, and the semi-finals on Saturday.
Aside from Djokovic's one prior win here in Montreal, other top seeds have also had prior wins: Rafael Nadal (2008, 2005), Roger Federer (2006, 2004), and Andy Murray (2010, 2009).
Top contenders Andy Roddick and Robin Soderling have withdrawn from the event due to injuries.
Djokovic's draw includes names such as Juan Martin del Potro (ranked 20th), Gael Monfils (ranked 7th), and American John Isner (35th).
Second-seeded Rafael Nadal's draw includes Gilles Simon (11th) and Tomas Berdych (9th).
Third-seeded Roger Federer's draw includes Nicolas Almagro (10th), Richard Gasquet (13th), Jo-Wilifried Tsonga (16th), and young Australian phenom Bernard Tomic (71st).
Fourth-seeded Andy Murray's draw includes names such as Mardy Fish (8th) and Murray's mum's favorite (other than Andy) - Feliciano Lopez (28th).
This is an important tournament for the top seeds. Not only is it a prelude to the last major of the year, the US Open, but it's the first major ATP Masters 1000 hard court tournament (important for rankings).
All of the four top seeds could conceivably win this tournament, something you couldn't say at Wimbledon or the French Open. None of the top players have yet shown a total dominance on the hard court in the way that a player like Nadal does on clay, or Federer used to on grass. Murray has won the past two Rogers Cups, but Nadal broke through last year with a hard court win at the US Open. Federer can never be counted out, and Djokovic has had, by far, the best season so far of any other tennis player.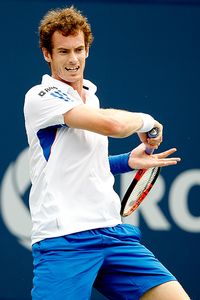 Andy Murray


Photo: Matthew Stockman/Getty Images