Today in Women's World Cup action, France played well enough to hold the United States to one goal in the first 78 minutes of the game, concentrating on keeping the ball off of American feet.
However, with a goal by Abby Wambach at 79 minutes, and another by Alex Morgan at 82 minutes, the United States finished off the young, less experienced French team.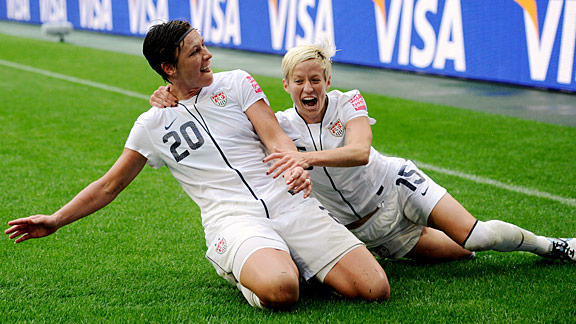 Lauren Cheney managed to score just 10 minutes into the game after a nice cross by Heather O'Reilly, but it took over an hour for the Americans to break through again.
Clearly France was looking to dominate ball control and was successful thoughout most of the match. Perhaps the United States team was still a little flat and tired from the amazing win over Brazil three days ago.
Becky Sauerbrann played an excellent game in place of red-carded Rachel Buehler, and Megan Rapinoe and Alex Morgan came on in the second half to provide a much-needed spark to the American side.
More analysis to come. Japan vs. Sweden is on ESPN, starting at 2:45 EST.